Strategic websites for small business owners ready to go big.
Are you ready to grow your business? Ready for a website you can be proud of?
Then you've come to the right place. I'll help you take your website from meh (or non-existent) to bold, professional and engaging. Your website is your brand's home. By investing with me, you will build your website into your most powerful tool for growing your business.
Not sure what you want your website to say? No problem.
Because I think it's silly to have a beautiful, functional website with poorly written content, all of my web design packages include copywriting to ensure your customers and potential customers are met with clear, engaging information.
Through my customized Website Content Workbook or a one-on-one conversation, we'll collaborate to write content that showcases your unique business.
DISCOVERY
After you Contact Me, I'll send you my online comprehensive Web Design Questionnaire for you to complete to give me an in-depth look at your needs. Once I've received your questionnaire, we'll arrange a time to chat via phone or meet up over coffee. During this time, I'll get to know more about you, your business and your needs and build a plan for your website.
COMMITMENT
When you're ready to move forward, I'll put together a detailed proposal and contract outlining the services I'll be providing for you and the exact cost for your project. Once we have a signed contract and you've paid your non-refundable 50% downpayment and we really get moving. We set a project start date and you get started on your homework...
HOMEWORK
Yep, homework. But don't worry. I'm with you every step of the way and the process really is relatively painless. Through my client portal, I'll send you a customized Website Content Workbook for you to complete and a checklist of items to send me like your logo files, photos, etc. All of this will be due to me 7 days prior to your project start date.
DESIGN + COPYWRITING
Once I've received all of your completed homework, we move into the design and copywriting phase. I'll take the content you've provided and the information from your questionnaire and create your website. Then I'll send you a password-protected link to preview your website. At that time, you'll be able to make suggestions for up to 2 rounds of revisions.
LAUNCH
When your website is ready to go (!!), I'll bill you for your 50% final payment and we'll schedule your launch date. On your launch date, we'll have a training video call via Google Hangouts where I'll go over the basics of how to operate your new site. Then we'll remove password protection and your site will go LIVE!!
ONGOING SUPPORT
Don't worry. I won't ditch you after we launch you site. Every project comes with 30 days of complimentary support by email. If you're needing more support than that and would like to set up a monthly retainer, we can do so (but most of my clients don't find they need a retainer and just contact me on the occasions when they have questions or need help).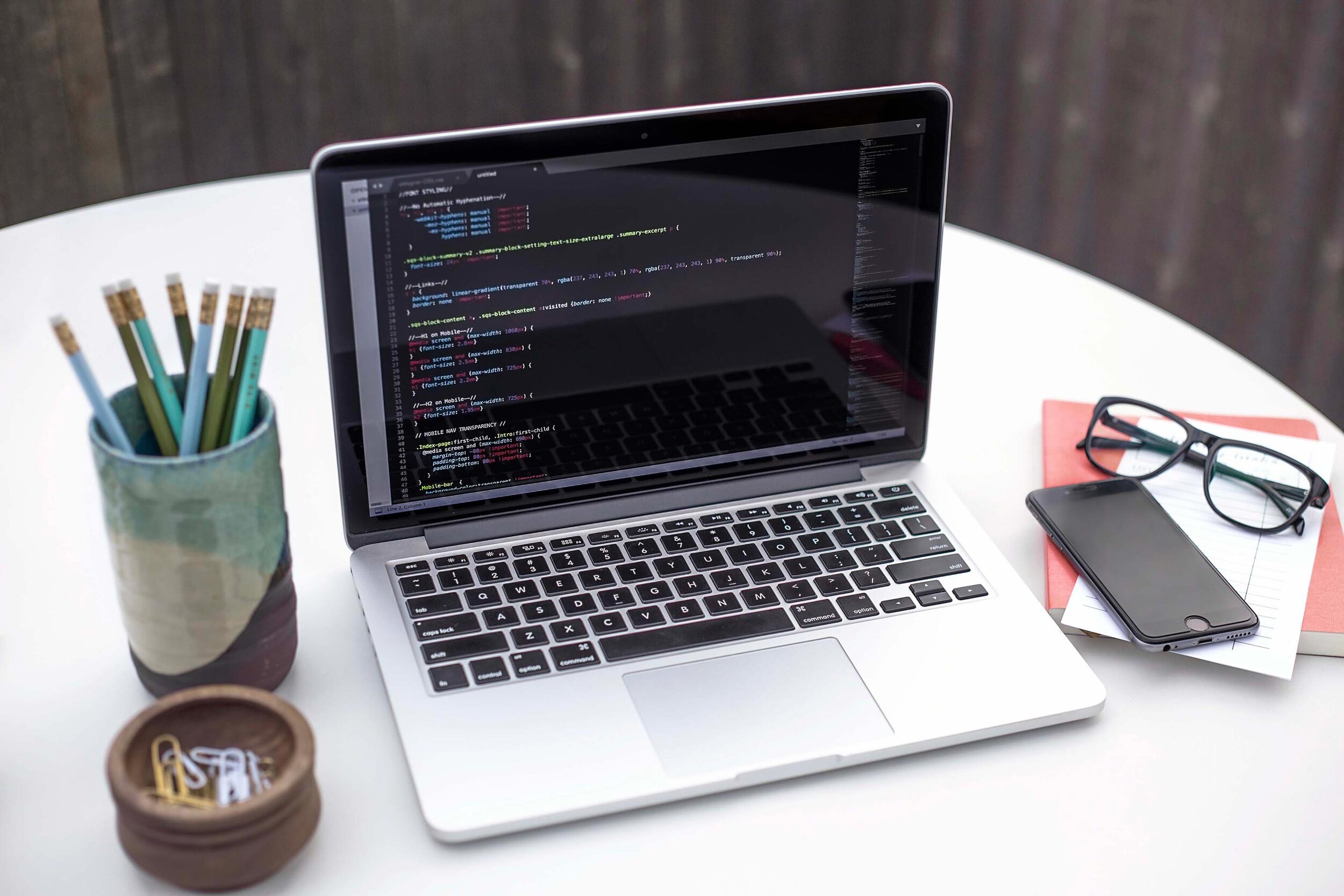 PACKAGES
Since every business is different, every website has different needs. I custom tailor my packages for each project to ensure all the goals for your website are met. Below are starting at prices for some of the most common needs…
SIMPLE WEBSITE + COPYWRITING
Best for startups establishing a simple web presence
Custom web design of your single-page website

Copywriting of all written content

Custom coding as needed

Basic SEO
Contact form

Newsletter sign up

Social network integration

Website training video call (30 minutes)
Built on Squarespace
Timeline: 2-4 weeks
Investment starting at $1895
FULL WEBSITE + COPYWRITING
Best for small businesses providing services
Custom web design for 5 key pages of your website (typically home, about, services, custom industry-specific page*, contact)

Copywriting of all written content

Custom coding as needed
Custom SEO for each page

Newsletter sign up

Social network integration

Website training video call (1 hour)
*Ideas for custom industry-specific pages include: portfolio, book online, testimonials, available properties, etc.
Built on Squarespace or Shopify
Timeline: 4-6 weeks
Investment starting at $2995
ECOMMERCE WEBSITE + COPYWRITING
Best for eCommerce shops wishing to sell products (digital or physical) online
Custom web design for key 5 pages of your website (typically home, about, services, custom industry-specific page*, contact)

Copywriting of all written content

Custom SEO for each page and product

Custom coding as needed
eCommerce shop and checkout process set up

Up to 10 products added to shop

Product collection creation

Newsletter sign up

Social network integration

Website training video call (1 hour)
*Ideas for custom industry-specific pages include: portfolio, book online, testimonials, available properties, etc.
Built on Shopify
Timeline: 6-8 weeks
Investment starting at $3995
Does your website truly reflect that you're a serious business seeking to become the best in your industry?
If not, I can help. Let's collaborate to create a website you're proud to show off. Stop hesitating to hand out a business card or share a link to your website and start growing your business like a pro.
I'm Emily…
I'm a small business owner, too. I get what it's like to wear all the hats and make all the decisions. I also know that sometimes you realize that you've bitten off more than you can chew and you need some help. So that's where I come in to help you as an expert in the field.
I'm located in beautiful Boise, Idaho; however, I work with clients throughout the United States. Whether you just need a few tweaks, some help with set up or an entire website created, I'm here for you.
Still have questions? Check out my FAQs below…
+ Do I really need to invest in a website designer or can I just DIY?
Could you DIY your website? Definitely. But it's not simple. I've talked with many business owners who have spent 100+ hours DIYing their websites, only to get a site that they didn't even really like in the end. What else could you do with 100+ hours of your time?
While Squarespace and Shopify are simple and user-friendly platforms, being able to truly customize your site so that it stands out and doesn't look DIY takes knowledge and experience. I use my design knowledge and custom coding in order to create a unique website for each of my clients. I take care of the entire process so you can focus on what you love to do!
And it's so much more than just the design. We've all seen beautifully designed websites with written content that was an immediate turn off. I blend form with function for a well-designed website with written content that sells without sounding salesy.
Think of your website as an investment in your business growth.
Sure, you could cut corners and save some money, but would that savings on your website really save you in the long haul? A strategic, well-designed website with strong written content will bring you more business. So how much more business would you need in order to make up the cost of your website? I think you'll find the cost of a new website is well worth the investment and can be made up rather quickly once your new website launches.
+ I can't write very well. How am I ever going to get you the written content you need?
I'm here for you! And I totally get it. That's why each of my clients get their own customized level of copywriting.
Maybe you feel comfortable talking about you business, but then you go to write things down and you suddenly hear crickets chirping.
Or maybe you're just not sure what you should include on your website.
Depending on your needs, we may...
chat at a local coffee shop or via phone. You simply answer questions conversationally.
utilize my easy-to-follow customized content workbook that allows you to communicate your ideas in the format that works best for you (bullets, sentences, paragraphs, full brain dumps).
Then I take what you provide and craft engaging content that matches your voice and vision.
+ I'm a pretty good writer. Do I really need your copywriting services?
In short, yes. I'm so glad that you're a confident writer...that will definitely make my job easier. However, website copywriting is not just about writing skills and grammar.
I combine those skills (including my degree in journalism), my in-depth knowledge of what makes good website copy and my design skills to create copy that flows well, goes with the design and sells (without coming across as salesy).
+ I already have a website. Can I hire you to make some changes or redesign my current website?
Yes! Let's chat about the best option for you. I offer Website Reviews for those who like the general design of their website but know it could use more oomph to really get the site working for them at maximum capacity. And for those wanting a complete redesign, I do that, too. Shoot me a message and let's connect.
+ Why Squarespace and Shopify?
Squarespace and Shopify are two of the most user-friendly platforms out there. I don't believe updating your website should be so hard that you can't do it yourself. I also want you to have a secure, well-functioning website that doesn't actually require you to make updates unless there's something you want to change. Both Squarespace and Shopify offer these features (and more!).
Wondering whether Squarespace or Shopify is best for your business? I'm glad you asked!
I typically recommend Squarespace for businesses looking for an informational website or those that already have a billing software they're using (such as Square, Paypal, etc). If you're looking to sell products or want to be able to bill seamlessly through your website, I typically recommend Shopify.
Want to learn more? Check out my pages Why Squarespace and Why Shopify.
+ Do you work on WordPress?
Nope, I only work on Squarespace and Shopify.
While WordPress is a versatile platform, it's also often difficult to update and has security issues that I don't want my clients to have to worry about. Additionally, all the plug-ins that make Wordpress so versatile need regular updating and happen to have a habit of not always cooperating...so an update in your theme or plug-in may cause your website to stop working. I want you to have a site that's always working for you and not one you're continuously needing to update or troubleshoot.
+ Will I be able to update my own website once it launches?
Yes! I absolutely believe you should be able to update your own website. That's why I use Squarespace and Shopify...their ease-of-use will have you breathing a sign of relief. My web design packages include a 1-hour training session on how to update your website prior to launch and 30 days of complimentary support via email.
Nervous about making the updates yourself? I do offer ongoing support packages, but I don't push for them and most of my clients find they don't need them.
+ What is included in your SEO services?
I provide basic SEO services while setting up your website. This includes custom SEO titles and descriptions for each page and product. Squarespace and Shopify have powerful, built-in SEO features that I make use of. In doing so, I've had clients go from not showing up at all for their desired keywords to showing up on the first page.
That said, I do not offer any guarantees about traffic generation or listing placement in a search. Those things all depend on your competition and how you use your site following the initial design, including blogging, marketing, updating content, keyword research, etc.
I do not provide extensive SEO or keyword research for your website project. If you let me know the keywords you're hoping to rank for, I will do my best to include those terms in your final copy; however, I don't believe in loading pages down with repeated phrases so I'll only utilize them in natural ways.
+ Do you offer payment plans?
Yes, projects are split into a 50% deposit (to reserve your spot on my schedule) and a 50% final payment (due prior to the launch and transfer of ownership of your website).
+ Are there extra costs that are not included in your pricing?
Yes, the hosting fee for Squarespace/Shopify and domain registration fee will be your responsibility to maintain. Those fees vary based on the type of plan required; however, I will help you determine the best fit for your business. My typical clients don't pay more than $20-30/month for their hosting and domain.
Also, if we end up using any paid stock photos, you will need to pay for those separate from your web design package. I do try to utilize free stock photos first, though, so there's a good chance you won't need to pay for any stock photos we use on your site.
+ I have a question not listed here...
Let's chat! Send me a message with your question(s).
Ready for a website you'll be proud of?